Tragedy + Thievery:

A Tale of Two Mothers

Despite ethnic, religious and geographic differences, many Sri Lankans share more than they know, as this tale of two parents from opposite ends of the country shows.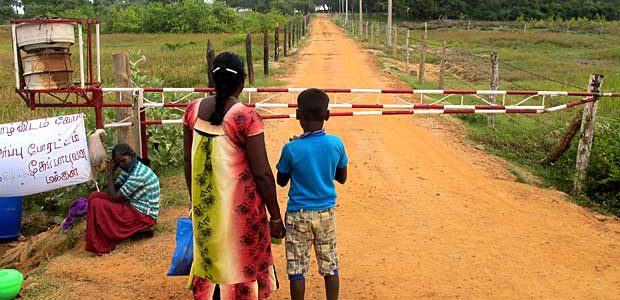 They may come from different ethnic groups and practice different religions, and they come from different ends of the island nation – but both Panampatuwe R.J. Pathmawathi and Jegan Rita are waiting to return to the land they call home.
In February of 2015, the Maithri government promised to give the land that had been confiscated by the state and military back to Pathmawathi and her fellow villagers. And Rita waits for government promises to give lands back to northern Sri Lankans to be fulfilled.
But the two mothers – Tamil and Sinhala, Buddhist and Christian – also have a familial tragedy in common, with the loss of a child.
These are their stories.
/

Panampatuwe R.J. Pathmawathi brought up four sons and she and her husband worked the land they inherited from their own parents, beside their sons. Originally from a town in the Panampattu district in south-eastern Sri Lanka, often known as Panama, they were able to live comfortably off the fruits and vegetables they harvested.
That is, until a political issue turned her family's life upside down.
At midnight on July 17 in 2010 a gang stormed the village and set fire to many houses, including Pathmawathi's.
"There were security forces among them," the 56-year-old woman recalls. "In front of our eyes they destroyed what we had cultivated. People were assaulted and shot. We ran away to save ourselves."
Since then the family has not had a home and has lived with relatives and friends, and worked as labourers to earn a living.
The land had been taken by those who did not own it. Even today the Sri Lankan military still controls large swathes of it.
In 2015, the Sri Lankan government decided that the property should be returned to the locals but a court order to this effect has never been carried out.
In protest some of the villagers, including Pathmawathi and her family, who are Sinhalese and Buddhist, went back to the village and set up temporary shelters; they decided to occupy the land in protest.
"No matter what happens we won't leave here now. If they try and chase us away, we will fight until death," the woman says, sitting in her temporary shelter. She pointed at the ruins of two houses nearby, of which only the foundations of the former buildings were still visible. One was her home destroyed by the tsunami of 2004 and another was her home destroyed by the government gangs who forced the villagers out of town in 2010.
But the worst was yet to come for Pathmawathi's family. One of her sons knew who had set fire to the houses in 2010.
He left the house during dinner one night, after being called away on an errand by a local politician. His badly beaten body was found on the road on the same night, August 25, 2015.
"When we started to protest and demand that we get our village back, proceedings started in court. They killed our son because they thought he would be a witness against them," argues Pathmawathi, who is still waiting for justice to be done.
/

After being displaced many times during the Sri Lankan civil war, Jegan Rita, originally from Puthukkudiyiruppu town in the Mullaitivu district in northern Sri Lanka, was in a camp for internally displaced people with her family – two sons with a third on the way – when the camp was attacked.
"The only thing I remember is a lot of noise and then I fell," the 35-year-old mother says. "When I regained consciousness I was lying with a lot of other people, many of them injured and crying out. I remember wounds and blood – and I had lost my baby."
After this attack, she lost track of the other members of her Tamil-Christian family as she and other inhabitants of the camp made their way around the countryside. Eventually they surrendered to the Sri Lankan military and after being in hospital for around three months, Rita ended up in another camp known as Manik Farm.
As soon as she was able, Rita began searching for her parents, husband and two lost sons. Eventually she located the two boys in another camp, as well as her parents. Her husband, thinking she was dead, had married again – so Rita was left to bring up the two boys alone.
She still has no home, as the land where she used to live is currently under military control.
"I used to have a quarter acre of land," Rita says. "We grew peanuts, coconuts and onions and reared animals. We even had a tractor. Around 84 people lived in my village and we had nicely built houses – my own house had a concrete foundation and was made with bricks. You know, we don't even want to have a cent from the government," she says. "We just want our land back."