The Shoemaker's Story

Positive Attitudes that Mend Old Soles

Shanmugalingam is a cobbler. He stitches new soles to old shoes.
20.01.2020  |  
Anuradhapura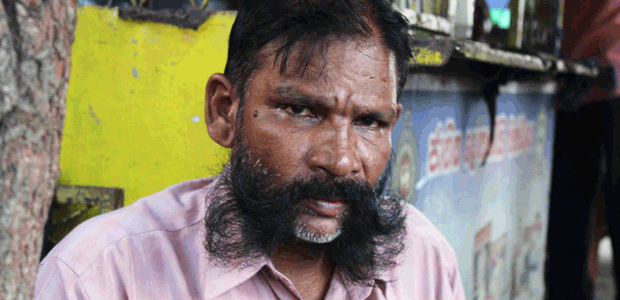 Shanmugalingam is a cobbler. He stitches new soles to old shoes. The townsmen like him because he is a man with a positive attitude. He spoke with The Cataraman while at work one day and told us his story.
Broken shoes come to him on dragging feet or wrapped in crumpled paper as he works crouched on a pavement in the corner of the street. Shanmugalingam the cobbler, identifies people by the rhythm of their feet as they roam the streets. He has been listening to the heartbeat of the city for 30 long years, living the life of a man who at the grassroots. He smells the dust on the feet of people of all races and religions.
Fifteen years ago in the Kurunegala Junction of Old Anuradhapura City, there was a small settlement of Sinhala and Tamil people who lived in small houses built in a row. To make space for archaeological conservation of the sacred city, the community was resettled to a new housing scheme at Devanampiyatissapura beyond Thissa Weva reservoir. They took their heritage of unity as a community to this new village and never had any ethnic or religious conflicts. Sinhala, Tamil and Muslim people live in this village, speaking both Sinhala and Tamil. Some have forgotten their ethnic identity. Buddhists or non-Buddhists, all of them deeply respect the sacred Bo tree, Jaya Sri Maha Bodhi which hailed from the sacred tree that provided shade to Lord Buddha to meditate to attain enlightenment.
Shanmugalingam visits both the Hindu and Buddhist temples each morning before reaching the town. He starts work at 5 a.m. and works as a cleaner in the Municipal Council until 2 p.m. He does not go home for lunch like the other sanitary labourers from his village. Instead, he crouches on the pavement for his shoe-repair business in the evening. Many customers including office workers wait till he 'opens' his shop.
There are many other cobblers in the city. So, why do people trust him so much? Does he have a secret hidden in his nails or in the glue he applies to shoes?
"I have been mending shoes here for 30 years. I observe all the people, vehicles and incidents that happen in this city" he says.
"I too suffered due to all the troubles in the country. In the 80s, terrorists attacked the sacred Sri Maha Bodhi and killed a lot of people.My family and I had to flee the city amidst the anti-Tamil backlash, but our neighbours did not harm us. The government sent us to a village beyond Omanthatin in Vavuniya for our security. We had eight members in our family including my parents. The government assisted us but it was not sufficient for us to survive. We engaged in casual labour and suffered a lot.
"I got married in 1989. My wife is from Kilinochchi. I am used to attending a Buddhist temple. Now both of us visit Buddhist and Hindu temples. Our children do the same even though they are adults now."
"There are disruptive elements in Sinhala, Tamil and Muslim communities. Some people think they belong to another country. I question whether only the Sinhalese are responsible to safeguard this country. Must only Sinhalese do the tree planting campaigns, almsgiving to poor people, provide flood relief and protect the artefacts? As a non-Sinhalese man, I would like to say that if you think you belong to this country, please protect the country because it belongs to their children's generation."
"I especially urge the Muslim community not to think of alienating themselves from other communities. There are no barriers for mixed marriages among Sinhala and Tamil communities. Sinhala-Buddhists do not chase us away from temples. They do not insult our Hindu temples. We too are the same. We never insult Buddhism irrespective of our own beliefs. We don't inquire about the races of people who visit our temples. We do not prompt our children to decline other religions. They are good examples. I ask the Muslim community too to follow these examples.
"We don't elect political parties on racial grounds. We do not try to differentiate education directing children to learn certain subjects and not to learn others. We don't pick and choose eateries when we are hungry."
"Rulers don't teach us these things. But we must understand them as citizens. We must protest when politicians ask us to vote for parties on racial grounds. We must protect our irrigation systems. We must protect our wildlife. We must not dump garbage on roads. These are the important policies that must be included in party manifestos. Some politicians demand separate states but they do not even protect the environment in their dream for a separate state. Don't follow these people. This country is ours. We must live in peace. If we love our country, peace will automatically be built," he said.
Shanmugalingam mends shoes. He stitches new soles to old shoes.