Abdul Massoon Mohammed Mujeeb's Story

Service is more valuable than money

How a tailor from Trincomalee is helping healthcare workers and the police stay safe during the COVID-19 outbreak
08.05.2020  |  
Trincomalee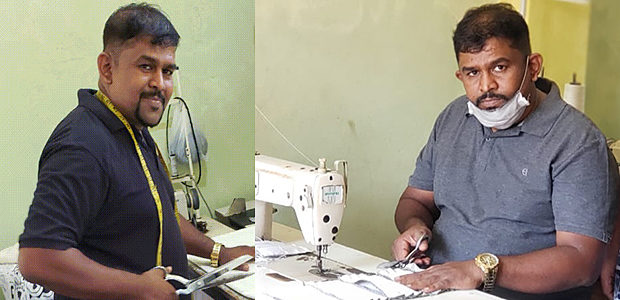 Sri Lankan Muslims are well known as master traders. While some hold a grudge against them due to this skill, no other community can compete with their business acumen. Abdul Massoon Mohammed Mujeeb is a Muslim tailor who runs his business, 'Modern Tailors', at Sonan Wadiya in Trincomalee. He regards his service more valuable than money.
Life in many parts of the world has turned topsy-turvy due to the Coronavirus outbreak. A problem Sri Lankans face is the lack of gear needed for personal safety. The country faces a severe shortage of face masks. The price of face masks in the market also spiked and the government had to impose price control.
Meanwhile, the media reported that a tailor in Trincomalee had started sewing and distributing face masks for people at his own expense. This social worker was none other than Abdul Massoon Mohammed Mujeeb, the protagonist of our story.
Mujeeb is famous for making western suits in Trincomalee. However, after the spread of coronavirus, Mujeeb became renowned as the face mask tailor of Trincomalee. By the time we met him, he had sewn and distributed around 7,000 face masks to various public institutes and people free of charge. He was also making Personal Protective Equipment at the request of the doctors and staff of the Trincomalee hospital.
"I started this service, considering it as a timely duty. When I went to a pharmacy to buy face masks for the employees in my shop, I noticed that face masks had been sold out for Rs. 150 per each. Then I decided to produce face masks as a service to my country. I thought that it would be solace for the people who lack face masks and they would be protected" he said.
Mujeeb suspended the orders of school uniforms and others he was undergoing to engage fully in sewing of face masks together with his employees. Although he had to face difficulties with the curfew that was suddenly imposed in the country, he never stopped. He is continuing sewing face masks with his staff considering it a service he can render to his country.
Mujeeb visited Trincomalee Police Station to obtain a curfew pass in order to distribute masks to various institutes. Then he noticed that the officers at the station were covering their faces with handkerchiefs while they worked due to the mask shortage. He immediately donated the first stock of his products to the Trincomalee Police Station, telling the HQ Inspector Suminda Rajapaksha that protecting police officers should be a priority.
He also came to know that prison officials and inmates lacked face masks and delivered a stock of 300 face masks for their use.
"We say prisoners also are human but they get less attention. We provided face masks not only to the prisoners but also to the officials. The inmates were so happy and thanked us a lot" Mujeeb said.
A group of doctors of the Trincomalee hospital informed social activist Shiroman Ranga about the problem faced by the health staff. The activist made Mujeeb aware of the requirement, and he promised to deliver the order without any tailoring charge. The Secretary of the Eastern Provincial Council Thusitha P. Wanigasinghe immediately ordered the material and Mujeeb accepted the order.
"When I got to know of the requirement at the Trincomalee hospital, my cutter was at home in Horowpothana in Anuradhapura district. I made a telephone call to him and asked him to report to duty immediately. While he was travelling here, he was arrested by the police for violating curfew. On my request, the Trincomalee Police Station contacted Horowpothana Police Station to ensure his release. Now we are sewing that Personal Protective Equipment. As citizens, we must perform our duty towards our country."
Dr. Lakshitha Ishanka of Trincomalee hospital praised Mujeeb and his assistants. "Many care workers of the Out Patient Department of our hospital did not have Personal Protective Equipment adequately. The management has ordered them, but we do not know the date they will be delivered. Mujeeb came forward to help us in our hour of need. The entire hospital staff are thankful for his service" he said.
By now, police, prison, hospital and many people in Trincomalee use face masks produced by Mujeeb. He is currently providing Personal Protective Equipment also for the safety of the health staff who deal with the patients visiting Trincomalee hospital amidst curfew seeking medical assistance.