The Fight Against COVID-19

A Chance to Repair

An examination of those supporting citizens and others trying to benefit during the Coronavirus lockdown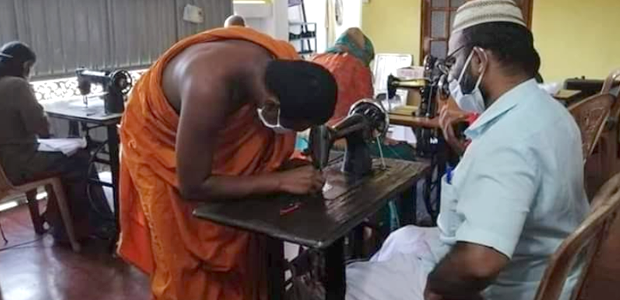 The government of Sri Lanka had to impose an island wide curfew to save its 22 million citizens from the deadly Coronavirus. The people in the Colombo metropolis and suburbs feel the containment severely. People in rural areas can share the village crops but they too do not feel relaxed amidst the crisis. Casual labourers and small businessmen have lost their income because of the curfew. However, they do not blame the government for imposing curfew because they know such action was taken to save their lives.
Rajan Rathnam is a barber who runs a small salon at Thumbagoda junction. He opened his shop when the curfew was lifted, but only three people sought his service due to the potential to be exposed to the virus. The small sum of money they earned was shared between the two barbers. They have to wait three more days to open the barbershop. "It is difficult to live like this. However, we have to bear this because the country will be in trouble if not" he said. However, he pointed out the need to provide at least dry rations to people like him whose income depends on day to day work.
Mohammed Iqbal is richer than him, but he too has lost business. Although he kept his paint shop open, it was not a time for consumers to colour their houses. He would have earned good profits during the Sinhala & Tamil New Year if not for the COVID-19 crises. However, Iqbal also says that people must bear it for their own well-being. He further stated that this is a testing period for humanity.
Anura Jayasekara is a fish vendor from Balangoda, He worked hard to expand his business during the time the curfew had been lifted. He has to pay wages to his four helpers too. He does not possess big freezers to keep stocks and had to sell as much fish as he could. Representing small traders like him, he appealed to the government to allow consumers to shop for a few more hours on the days curfew was temporarily lifted. He pointed out that it would also minimize the rush.
Thissa Ananda kept his cement block making factory for a few hours when the curfew was lifted so that half a dozen labourers could make a living. Ananda stressed that entrepreneurs should look after their workers. He pointed out that it was his contribution to the efforts of the government to save society from COVID-19.
Black Markets
At the same time people need to be protected from racketeers who exploit making use of crisis. A few days after the curfew was imposed, the Consumer Affairs Authority raided an online retail network selling goods at exorbitant prices. They delivered a can of fish to the doorstep at Rs. 550 while the government had imposed a controlled price of Rs. 100 per can.
Government officials had to raid the Manning Market in Colombo and warn traders to stop selling vegetables bought at low prices from farmers at unreasonable prices. The rates observed by the officials of the Consumer Affairs Authority proved that a mafia was running the vegetable trade there. Meanwhile, farmers in Haputale spent about Rs. 100 to produce a kilo of beans and received only Rs. 15 per a kilo.
In this backdrop, the government decided to allow farmers to engage in cultivation during the curfew. Also, traders who transported vegetable and fruit from the farmland to consumers were issued curfew passes. Politicians promised to implement mechanisms to purchase crops directly from farmers and to sell the products to the consumers. The importance of such an arrangement is high during the upcoming harvesting season of paddy cultivation.
Meanwhile, the fisher community complained that although they had been given permission to engage in fishing, they had problems selling their catch. Also, it was difficult for them to purchase fuel. Minister Bandula Gunawardane promised to make Fisheries Minister Douglas Devananda aware about the problem and take necessary action. A task force was appointed under the chairmanship of former Minister Basil Rajapaksa to address the economic issues. However, while the fisher community in the south was complaining about the difficulty in selling their catch, unfair price hikes of fish were reported from Negambo in the Western Province.
Listening to the Truth
Dr. Nihal Abesinghe is a former epidemiologist who also served as an adviser to the World Health Organization in the South East Asian region. Joining as a resource person for trainings conducted by Sri Lanka Press Institute, he pointed out the importance of data when managing a disaster like the COVID-19 epidemic. He explained how the misinformation mainly spread via social media would intensify the risks in terms of managing outbreaks.
Dr. Abesinghe urged journalists to follow official sources like WHO and other official institutes to obtain the data and guidance. Journalists can refer to multiple sources when data sets seem contrary. Fact-checking is highly important in the context of misinformation and fake news which also spread like virus through social media. Dr. Abesinghe further pointed out that reporting false news creates extreme fear and panic in society.
Undying Humanity
While certain mass scale enterprises were trying to gain an advantage during these troubled time, we observed altruistic behaviours amoung others. On the first day of the curfew, traders in Bandarawela distributed stocks of vegetables to people free of charge. Photos of one poor man distributing his harvest of jack fruit from his garden was spread via social media. Analysts compared his effort with the unscrupulous acts of some online retailers. In many areas of the island, people did not forget street dwellers and stray dogs. They cooked food and distributed among them. Some mosques distributed dry rations to people of all communities while photos of Buddhist and Islamic priests sewing face masks to circulate among people, spread virally across social media. All these good deeds were reported from a country where communities clashed not so long ago.
The caption used with the photo was "The priesthood that mends a torn fabric". The time is ripe to understand the deep meaning of the caption. This is indeed an awkward moment. However, since COVID-19 does not care about these differences, it is an opportunity for reparation in Sri Lanka.