The Master Haq Story

How a Muslim awakened the taste of the Sinhalese

Sinhala lyricist, Galagedara Haq, recounts his undervalued career and how music and love accompanied him on his path.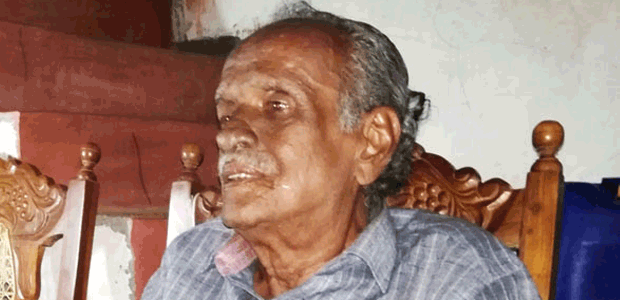 The elderly Muslim was never learned in the art of music, however divine intervention allowed him to capture the hearts of Sinhala Cinema with his songs.
"Music: It's a wonderful gift and God's will. I don't know how it was possible; I've never been able to learn music but I learned English very well." Haq began his story. Later, he was teaching music at a school in Gurutalawa, Welimada, when the picture of a beautiful woman inspired his first lyrics. He would sing it in Tamil from time to time, 'Paranthodum nilavil kandaen paavai unnaiyadi' (I saw you in the moon that flies in the sky). Since the phrase was so sweet, he kept it inscribed in his memory, not knowing how to write sheet music.
Eventually, Karunaratne Abeysekara of Lanka Broadcasting translated Haq's lyrics, adding more to the song which would go on to be performed by the late H. R. Jothipala. Haq then returned to his studies at St. John's College, Jaffna. Subsequently, becoming an English teacher, he trained at the Teacher Training College, Palali where film Director Joe Dev Anand was also teaching and working with two of his students to create a 16mm film.
The old Students of St. John's College invited Haq to sing a song at the Palali Teachers Training College. He sang the first few lines of a song he had thought of while teaching at Gurutalawa. "My friends asked me where the lyrics were from. So I told them it was my own song. They asked me to requested me to go and meet Anand as he was looking for a song for his film.  That's how I met him." Since Haq did not know Sinhala at the time, he wrote the song in Tamil. But it was a practice at the time to write Sinhala words phonetically in Tamil. So it wasn't a problem. The need was for rhythm and emotion.
Later, Anand joined Cargills, Colombo and started working on the Sinhala film "Geetha". He invited Haq to make his Geetha beautiful with melodious songs. Haq, in collaboration with Karunaratne Abeysekera, presented the song "Dakina Dasunae" for Geetha. The dream girl of the song "Dakina Dasunae" who drew many Sinhala music fans towards Haq, later became his life-partner. At their marriage ceremony in Mathota, former president J. R. Jayawardana was present. This marriage did not last long, unfortunately yet she remained the heroine of all his songs.
After "Geetha", Anand initiated a new production called "Sujeeva". Since Haq's song had become the backbone of Geetha's success, he invited Haq to compose songs for the new movie too. Haq was inspired by his own daughter for the new song. One day, she had fondly fallen asleep on his chest while he was reading a newspaper in the late afternoon, she suddenly jumped awake from a nightmare and while comforting her, a song was inspired and he immediately wrote down the lines which became the theme song for the new film. Some thought it had a Hindi melody and Mr. Gunaratnam of Cinemas Theatre didn't believe it was an original even asking renowned singer, Jothipala, to confirm its authenticity.
Breaking a 17-year-old record, the film ran for over 100 days. Some fans of the movie watched several times just for the song. However, while the producer made a lot of money on the song, Haq received just Rs. 500. Neither Jothipala nor Haq were paid a reasonable amount. Perhaps, Haq learnt to think of it as the nature of this industry, because of the simplicity of his life today.
Eventually, Haq began teaching English again at Kadiresan Hindu College, Nawalpitiya. On Friday's he was allowed to leave by 11:30 am for Muslim prayers. On one such Friday, he left at 11 am to travel by train to see his wife in Matara. He saw a little girl hopping through steps in the beautiful tea estates of Ulappana and lyrics came to mind again. His new song would eventually become the tune to the famous Sinhala song, 'Pena pena ena sanda piya geta pela digae'. He shared the tune with Jothipala while in Colombo and they spent Rs. 20,000 to produce the song in a studio. More was spent shooting the video for the song.
After his wife, the muse of the song 'Dakina Dasun', left him, Haq embodied the characteristics of Devadas. Today, he lives in virtual solitude. Even after all these years, the old man admits that though their marriage failed, he still holds infinite affection for her. Haq will forever remain in the hearts of Sri Lankans for his songs that decorated Sinhala cinema.