Who protects the brave?
Poor and uneducated young men risk their lives to clear landmines leftover from the war. Proper funding could make the job safer.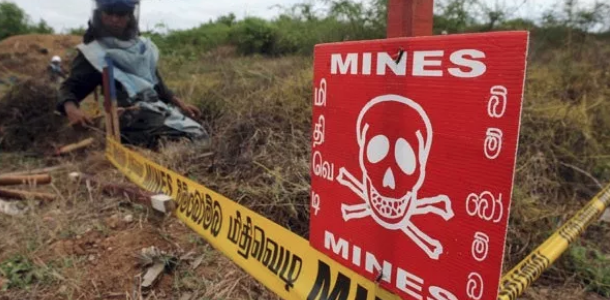 Rajendran Nitharsan, a 28-year-old young man from Vavuniya was preparing to go to work on the morning of 5 September 2018. His pregnant wife came to the street to bid him farewell. Later that afternoon, she received the message that her husband died while clearing landmines.
The same day in Kilinochchi, another pregnant woman said goodbye to her 25-year-old husband, Pathmanathan Thileepan. It was the last time she saw him before he died clearing landmines.
It has been over nine years since the end of the war, yet landmines continue to endanger lives.
Explosives, particularly landmines were laid by both LLTE and government forces. Landmine warning signs are placed in different parts of the North and the East for public saftey. But, what about those who clear the mines…? Both Nitharsan and Thileepan worked for an NGO. It is not clear whether adequate safety measures had been taken to ensure their safety or not.
In the North, along with the government forces, three local bodies are involved in landmine clearing. These bodies, except one with international recognition, are dependent on human resources for their activities.
According to international standards a landmine clearing team should consist of 8 members. There must be a sectional head and a team leader. Each of them has particular set of responsibilities to perform. There must also be a technical and medical set up. Those who engage in clearing activities (men as well as women) are given basic training and then brought to the field.
There are advanced technologies in land-mine clearing but, in Sri Lanka, most employ the traditional method of removing minds by hand.
Nitharsan and Thileepan were from remote villages and grew up with the war. They were brought up in poverty and with little education. They engaged in this dangerous activity to feed their families. Rajendran Nitharsan's wife attempted suicide after her husband's death. She was later saved by her relatives.
The cost of clearing mines humanely?
With deaths like Nitharsan and Thileepan's, many wonder if local organizations are able to purchase modern equipment that would keep land clearing workers safer.
While employees are being given training, it is not clear whether they have consistent supervision. The government has taken a policy decision to make Sri Lanka a land mine less country by 2020. This year, countries such as Japan and Britain have provided a great deal of funding for this effort.
According to the Minister of Resettlement, Rehabilitation and Northern Development & Hindu Religious Affairs D.M. Swaminathan 44,000 landmines have been removed from 36,000 square kilometres since 2009. But, more than 30,000 square kilometres still remain unchecked. After this revelation many other countries have again offered financial assistance for mine removal.
At the same time, reports say that steps have been taken to provide additional protection for the forces engaged in mine clearing. Until now, government forces have not reported any accidents in mine clearing activities. Many of those wounded and dead were employees of non-governmental organizations.