The freedom to be Sri Lankan
During the war Chathuranga and Gowri were soldiers on opposite sides. Today they are married and call their daughter, simply, Sri Lankan.
10.10.2018  |  
Kilinochchi
"Our daughter has no ethnicity," says the former LTTE cadre Subramanium Gowri Malar on maternity leave. "She is a Sri Lankan."
Gowri lives in Vishuwamadu, in Kilinochchi, once the capital of the now defunct LTTE, with her Sinhalese husband, a soldier of the Civil Defence Force (CDF) and their newborn baby girl. She says their baby has no religion and has the freedom to choose when she is old enough to make a decision.
"We are now a multi-ethnic, multi-religious and multi-cultural family," says Gowri.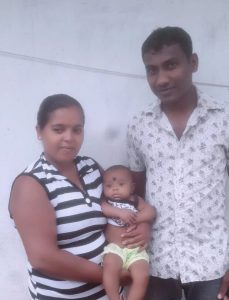 A decade ago, the two were enemies in each others' eyes. While one was guarding his village against terrorist attacks, the other was fighting in the Forward Defence Lines against soldiers who were marching forward to combat terrorists.
A few years after the end of the war, they fell in love. In 2014, the soldier of the CDF and the former LTTE cadre tied the knot.
"Although we fought with each other, I didn't see any difference in her when I first saw her," says 28-year-old Roshan Chathuranga Jayatilake, Gowri's husband.
Hailing from a Sinhalese village called Iratteperiyakulam, six kilometres from Vavuniya, Chathuranga followed in his father's footsteps to become a soldier in the CDF in 2008, to defend their village and the surrounding villages from LTTE attacks.
Sandwiched between a few border villages, some farmer families in his village lived in constant fear of LTTE attacks and, like most of the children there, Chathuranga studied only up to grade 10 due to the security situation.
"I had several friends at school from mixed families and we had no ethnic differences even though the LTTE was attacking the neighboring villages," remembers Chathuranga, who served at the roadblock at the Iratteperiyakulam Police Station for two years and then another two years in a CDF-run farm that cultivated sorghum and vegetables.
The new deployment to Kilinochchi, where the new CDF headquarters at Vishuwamadu was built, and his appointment as a supervisor of a large farm run by the CDF, changed Chathuranga's life in 2012.
The new supervisor, who didn't speak a single word of Tamil was given a translator to communicate with the workers at the 25-hectare farm. Gowri was the translator and assisted Chathuranga in communicating with the workers and taught him Tamil.
"We started an affair and got the blessings of her family. I joined the CDF to fight against the LTTE attackers that killed and chopped innocent villagers and destroyed their properties but I didn't feel hatred towards Tamils. We worked in Tamil villages and had a good relationship with the villagers," Chathuranga recalls.
Growing up during war
Gowri lived with her aunt in Puttlam and only studied up to grade 8, due to the conflict. She later returned to Vishuwamadu, with her family of six siblings.  At the height of the war, when the LTTE was shrinking its manpower, hundreds of teenage girls and boys including Gowri had fallen prey to the LTTE's forced conscription.
With little training, youths were placed in the front lines to fight soldiers who were rapidly capturing the LTTE dominated territories in Mulaithivu. Gowri says the LTTE had shown a different picture of Sinhalese and the Sinhala soldiers during their propaganda campaigns, saying they were killing Tamils, raping girls and cutting children into pieces.
"She also fled with the people and found her family in the No Fire Zone in Puthumathalan. She later surrendered to the soldiers," Chathuranga says.
Merging families
Both of their parents initially gave their blessings but later Chathuranga's mother as he is the only boy in the family.
"I couldn't stop the affair as I was going to her house for two years and all her relatives and people in the village knew that we were going to marry, so I brought her home despite my mother's objections. We registered our marriage and two days later my father invited us home. Then my mother welcomed her dearly," Chathuranga says.
Chathuranga's cousin, who is happily married to a Tamil woman, was an example for him. "They have no ethnic differences and live peacefully with their three children in Vavuniya. Gowri respects and loves me a lot. Being a traditional Tamil woman she performed both rituals in her festivals and mine's perfectly," he says.
Gowri's parents and sisters, he says, are very close to him. Gowri didn't have any objections from her relatives and neighbors for marrying a Sinhalese soldier. "We both respect our religions and cultures. We celebrate our religious events and worship Lord Buddha and the Hindu Gods," Gowri says.
"Since I was in Puttlam, I know about Sinhalese better. I don't see any difference in us. Both families call our daughter fondly as  'Sudu amma' and my parents call my husband 'Putha' (son)," she, who had undergone rehabilitation soon after surrendering to the army, says.
Gowri's elder sister, who was a senior LTTE cadre and also married to an ex-cadre has settled in Kilinochchi with her three children. One of her elder brothers, died due to a shell attack when the LTTE forcibly ordered him to transport some goods. He has been listed as a missing person as his body was not recovered. Gowri's family still waits with the hope that he will come home one day.
"It is not easy to live when a family member has gone missing. We always live with a hope to see him. We can't perform final rituals for him as we have not seen his body. When I cry remembering my elder brother, Chathuranga is always there for me," she says sadly.
"We need to build our own house, buy a small vehicle and give birth to another two children to complete our family. I want to have a son who can help Chathuranga in the future. He is a nice soul," Gowri says of her husband.