The Fishermen Community in Negombo

No Sense in Being Divisive

The people of 'Little Rome' live in peace built from the four religions that make the city. The Easter Sunday attacks failed to break these pillars of faith and the people of Negombo remain as united as ever.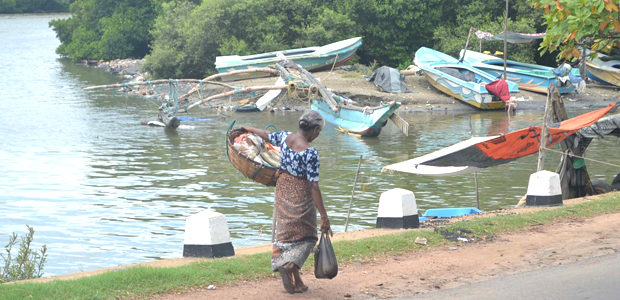 The people of Negombo are striving to overcome feelings of distrust and disharmony after the recent Easter Sunday Attacks. This is the Catamaran's interview with the Sri Vimukthi Fisher Community Association at Munnakkarai.
"I am 43 years old. I went on the Madu pilgrimage every year without fail, even during the war. The only season I've missed is this year's. While I was determined to go, my mother, the leader of the group of pilgrims, felt like she could not be responsible for them," says Nilanthi Fernando of Munnakkarai. This fisherwoman and mother of three is a firm believer that language, ethnicity and religious differences are immaterial to the lives of the people of Negombo.
"People from all walks of life were victims of the Easter Sunday attacks. The problems of the survivors were different from person to person. Some people need money for further surgeries, others face social problems. Entire families have been wiped out. All of us must unite to solve these problems," said Thrimaliya Fernando, housewife and mother of two. She believes social activists must take the leadership to repair the unity that was shattered by the Easter Sunday attacks.
Shirani Fernando did not stop sending her kids to school even during war. However, post attacks, the terror created by misinformation and insecurity made her keep her children home. She demands the authorities to implement law and create an environment where people can trust each other.
Natasha Sewwandi, a Grade 11 student, commented that "There are children of various communities in our school, but we don't discriminate. While we were reluctant to attend school due to the fearmongering, the problems are now over,"
Mary Nishanthi, Malini Fernando, Maria Pierrina and Thrimaliya are women living around the Negombo lagoon and are interconnected by livelihood and trade. They demanded in one voice not to break the cohabitation of the Sinhalese, Tamil, Muslim communities in Negombo.
Vincent Fernando, manager of a fisher community association, pointed out that the strength of unity among all religions in Negombo is not easily destroyed by a bomb blast. "Freedom of the people is not complete."
Herman Kumara, the convener of National Fishermen's Solidarity is a representative of diverse communities and social phenomena. He commended the involvement of Rev. Malcolm Cardinal Ranjith for preventing probable backlash. "Our religious leaders have many duties to perform and I believe they have failed to deliver," said Herman Kumara.
Moulavi Abdul Rahuman studied in Sinhala-medium school. He pointed out that the Sinhala, Tamil, Muslim communities in Negombo are inter-related through marriage and therefore there is a tight inter connected-ness between the communities.
Moulavi A.M. Salman expressed the following views; "Politics divided us. This political issue has spread throughout society. We must not allow it to further. Social activists must unite to change the situation. We were children who played together in the decade of 1980. Cohabitation is our inheritance".