Coronavirus

The Common Enemy

How a common problem like the COVID-19 pandemic is bringing communities together
09.05.2020  |  
Kurunegala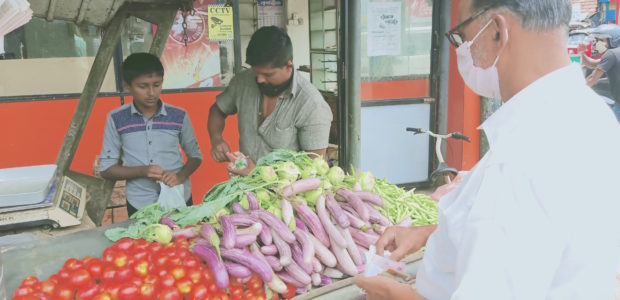 All schools in Sri Lanka were closed on March 12 to prevent the spread of Coronavirus, known as Covid-19. Constantly crowded places are now locked down. A nationwide curfew was imposed on March 20th. On March 26, the curfew was relaxed for few hours in Colombo, Gampaha, Puttalam and other districts and in the Northern Province so that people could purchase essential items.
Paragahadeniya is a small town in Kurunegala District. It was very busy on the morning of 26th March. People rushed to the town to buy essential goods and the vendors to sell them. People of all ethnic groups live in this town. Their thoughts were more of a day-to-day issue of existence. Many who were daily-wage-earners thronged in Paragahadeniya town to buy essential goods.
People and businessmen were very busy buying and selling without giving any importance to their safety. Only a few were wearing face-masks. Their main concern was to buy things and get back home within the limited time. Mohamed Adnan (age 41), a fish vendor, was busy selling vegetables. His has a small fish stall that had now been converted into a vegetable shop.
"I couldn't finish selling fish within this few hours. If I can't sell the entire load of fish I bought, I will lose. So I started selling vegetables" he said.
Within those few hours he had to sell vegetables and also buy essential goods for his own family. His son Rajhan Ahmad (age 14) assists Mohammed Adnan. With the closure of schools, Rajhan became very busy with his father. We don't know how effective the government's regulations are in restricting the spread of coronavirus. This question arises when looking at these people. But what can these people who run a day-to-day life do?
"I bring vegetables in a lorry from Katugasthota, 24 km away from Paragahadeniya. Don't know how long I can do this. There is business nowadays. People buy vegetables for 2-3 days. Some even buy for a week. I too have to purchase things for my home; everything has to be done within this short interval," Mohamed says.
"Why is there no fish today…?" asks Gitanjali, a Sinhalese woman, picking vegetables. The aluminum tray that was used to spread fish is now with full of vegetables. Sometime ago these same people were hostile to each other. They avoided buying things from Muslims. Today COVID-19 stands as the common enemy of all. People have forgotten their differences and talk to each other in order to meet their needs.
"In my fish business I have lost twice because you can't keep fish out for a long time. Fish has to be sold on the same day. Vegetables can be keep for a couple of days. But there is lot of uncertainty in the country. We do not know about the curfew situation. So you have to sell everything today itself. Everyone accepts goods at its fixed prices, without bargaining" Mohamed Adnan says with a smiles.
The vegetables prices in Adnan's stall are very low compared to the prices of vegetables in other stalls. He is able to get vegetables at a very cheap price. He sells a kilo of tomato for Rs.120.00 whereas in other places it is sold at Rs.180.00. Similarly, all other vegetables too are at least 30-40 percent cheaper than other places. So he gets more customers.
The few people lined up do not maintain the required one meter space between them to prevent the spread of Coronavirus. People are crowding in some places. This increases the risk. The government is considering preventing this crowding. It is taking steps for people to get vegetables and other essentials to their doorsteps through some authorized distributors.
The president of the Paragahadeniya Traders Association says: "If the curfew is in force for more than seven days, people will suffer. For this reason, we will carry out a mobile vegetable vending service with the permission of the police. This is a nonprofit project. This will benefit everyone. I hope everyone will welcome this" he says.
But what will happen to people like Mohamed, we asked.
"Vendors like Mohamed Adnan will be absorbed to help selling vegetables to the people of the city. Other essential items other than vegetables are also being considered" replied the Traders Association president. Action to protect people from Coronavirus will impact day-to-day life. That is unavoidable in any third world country like ours.