Reporting from the East

Life Slowly Gets Back to Normal in Pasikudah

A story of recovery and resilience from the people of Pasikudah
15.10.2019  |  
Batticaloa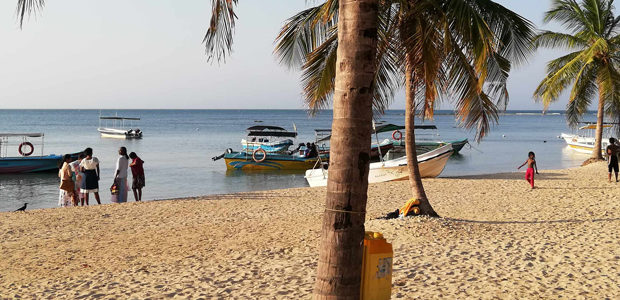 Abeynayaka Dhanapala, a Sinhala man; barely literate, grew up among Muslims and married a Muslim woman. His story is an interesting one. Born in Padiyathalawa, he does not remember the year a life-changing incident happened to him. He guesses it might be 1977, the year J.R. Jayawardane initiated forming a new system in the country after winning the election. His destiny changed that day. A seven year old boy at the time and attending grade 2 in school, he was compelled to board a lorry. It was the first time Dhanapala had travelled on a lorry for such a long distance.
Eventually, the men in the lorry asked him to get down at Chenkalady. Trembling on the roadside and clasping his bundle of books, the boy was all alone until a Muslim man spoke to him and asked the boy to come back home with him. Taking the man up on his offer, Dhanapala began a new life in Valachchanai.
Dhanapala helped the man on his farm by working in paddy fields and shepherding flocks of cattle and goats. The man's daughter Fareeda befriended Dhanapala and eventually the two fell in love and married. By this point Dhanapala was no longer  interested in looking for his roots in Padiyathalawa. He became a bicycle vendor and started selling popsicles for five cents, a business he continues today in the tourist zone near Pasikuda.
After the terrorist bomb attacks on Easter Sunday, the beach was deserted for three months. His family, including his wife Fareeda and their kids are still waiting until Pasikuda starts to breathe again.
Pasikuda is like a calm pond attached to sea. After the war ended, people started to roam freely around the island and Pasikuda eventually became a tourist hotspot. Like Dhanapala, many depend on tourism to earn money in the area and have been affected by the attacks on Easter Sunday.
Ayinkaran, a young Tamil man from Kalkuda sells savoury snacks like Patties, Wade and Murukku which he has been doing for eight years now. "This is a place visited by people of all communities. Hundreds of vehicles come here every day. Traffic was high on weekends and we earned well. Now, we are in trouble" he said.
Among the 17 shops in beach, one is Muslim-owned, four are Sinhala and the others are owned by Tamils. The Muslim shop is still closed after the terrorist attack. Ayinkaran says it remains closed out of fear. However, he also mentioned that no one threatened them. "They are not responsible for the situation just because they are Muslim. I have noticed Sinhala and Tamil visitors being reluctant to buy goods from Muslims. Some people hang around my shopping cart and inquire if I am Muslim. This is enough now" Ayinkaran said sadly.
The shop closest to the beach on the side of the walking path belongs to the Army. A soldier in civilian clothes sell goods there. "Things are getting back to normal," he said while selling to a Muslim man at his shop. "The majority of visitors to Pasikuda were Muslims. There were no other places nearby for recreation.So they came here on holiday with their families, bathed, cooked, ate and enjoyed. The beach is lonely without them. Now the problems are over. It is good if they return" the soldier continued.
Like him, Dhanapala too wants people back on Pasikuda beach.