Bound by Humanity

Brothers of One Family

A story of reconciliation from inside a drug rehabilitation centre in Sri Lanka
07.01.2020 |
Anuradhapura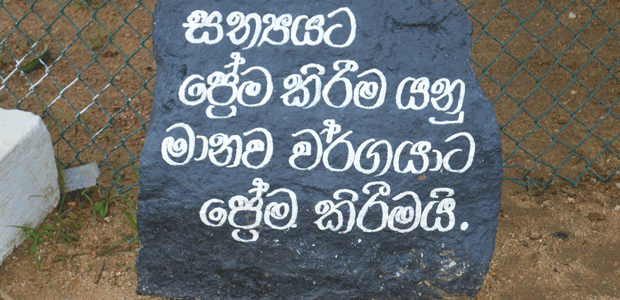 They belong to one nation but they follow different religions. They are also all former drug addicts and have been living here for a year like brothers of one family who have no race, caste or creed differences that prevail in society.
Sarath, Ramesh, Mohammed and Christy are similar to most Sri Lankans in that their names have ethnic connotations. Today, all are bound by humanity. The Kandakaduwa Treatment and Rehabilitation Center has thus become a haven of love and humanity for the young men who come here for treatment.
The rehabilitation centre premises also conrains shrines of Buddhist, Hindu, Christian and Islam religions because the young men who come there belong to different religions. The religious practices help young minds to be directed on the right path and so attend the religious observations of all religions. During Vesak, Buddhist youth make vesak lanterns while others who belong to other religions help them in their talk. All listen to Buddhist preachings on full moon days. Likewise, all fast during Ramazan together with the Muslims. Some Chrsitians formed a choir at the centre and sing Christmas carols during the season. All apply sacred ash Thunnur on their foreheads after a feast at the Hindu temple.
Christy is a born leader. He completed six months of rehabilitation at Kandakadu rehabilitation centre and is now a leading activist in the youth camp. He says he does not feel a difference among religions.
"There are no racist, religious and caste differences among the inmates of a rehabilitation camp. All are equal. All religions teach us how to lead a good life. No prophet promoted hatred against other religions.  The youth who are directed to this place live here for two years together. We learn from the beginning how to live together as children of one mother. Therefore, the youth here respect all religions and cultures. The reason for most problems in our society is that we are not ready to admit our diversity. We must live together in a multicultural and multi-religious country. Religions show us the right path. Many young people who come here have lived a life distanced from religion. Society only thinks of punishing offences legally. Few look deeper into the reasons behind the offence" Christy says.
The rehabilitation programme for prisoners convicted of offences related to dangerous drugs comprises two stages. The basic rehabilitation is carried out at Kandakadu Treatment and Rehabilitation Center under the direction of Colonel Chaminda Pasque, the director of the institute. The location was an abandoned farm now converted to the centre by former LTTE cadres.
The Kandakadu Treatment and Rehabilitation Centre was established in August 2013. Youth from all nine Provinces are directed here. The majority of current inhabitants come from the Western Province. A total of 2,360 youth from the Western Province were rehabilitated here. Additionally, 587 from Southern Province and 377 from North Western Province were also rehabilitated. Over 100 youth were sent here from the other Provinces for rehabilitation. They belong to all communities.
Among the present inmates, 791 are Sinhalese while 53 are Muslim and 18 are Tamil. Religion wise, 679 are Buddhists, 76 are Christians, 53 are Roman Catholics, 18 are Muslims and 12 are Hindus. Although they belong to various religions, the aim is to help them be good citizens.
"We missed the right path in our lives and we were helpless. All race, caste and creed differences are for people who have physical strength. We were addicted to drugs and went after them crazily," said Nishaman, a trainee of the camp, regretfully. "I lived in a dreamy world then. But when the dream distanced from me day by day, the people who were with me also distanced themselves from me. I cannot imagine what might have happened to me if I was not sent here. I was terrified when they said that I would be sent for rehabilitation. I thought that it was a place where we were tortured and disciplined strictly. When we arrived here, we understood that we would be re-educated on life under a team of learned and wise officials. By the time we were sent here, we were hateful of not only our families but also society at large. But  today we feel a sense of responsibility towards them. We tried to show our strength when we lived in our environments. We thought of class, race and religious differences and ranking. However, when we were marginalized by society as drug addicts, no race or religion difference was considered. When we enter the camps as trembling, dirty creatures, the officials put us under a shower and we are bathed several times a day. They made us weed the vegetable plots. We were directed to plant seeds and wait until the plants grow. That was how our drug-sickness was cured."
Nimesh is Sinhala and Buddhist by birth. At Kandakadu, he says he doesn't care about racial or religious differences. He says that we need to give priority to our humanity.
"During the first three months, we ate, worked and bathed together like the children of one mother. No one was isolated. We were bound together by brotherhood. Individually, we sought the blessings of our own religions. But, as a group, we wanted to come out of the hell we had put ourselves in. The officials at the Senapura and Kandakadu camps were like gods to us. They taught us life. We will leave this camp as useful citizens of the country." Nimesh says.
After six months of rehabilitation at Kandakadu camp, trainees are directed to the Tertiary and Vocational Literacy Training Centre at Senapura in Welikanda. Colonel Asela Obesekara, director of the institute, told us that all youth were given a vocational training. Youth are given Sinhala, Tamil and English language education too.
3,034 trainees have passed out from Senapura Tertiary and Vocational Literacy Training Centre since 2013. The present batch comprises 713 young persons. Parents who visit their children see how inhabitants are trained and also understand the importance of ethnic and religious reconciliation. All of them want to free their children from drugs. They want to make their children good humans and efficient citizens. Tears and hopes are the same for people of all communities. That is a lesson all Sri Lankans can learn from Kandakadu.