Humanity & Trust

What is more important than race?

Ansar is a rich man; a member of the Anuradhapura Municipal Council, he comes with three decades of political and business experience. "There are two groups of people who hold trust in the midst of life's inevitable breakups. One is the Sinhala consumer. The other group is the Sinhala voter" he says.
30.08.2019 |
Anuradhapura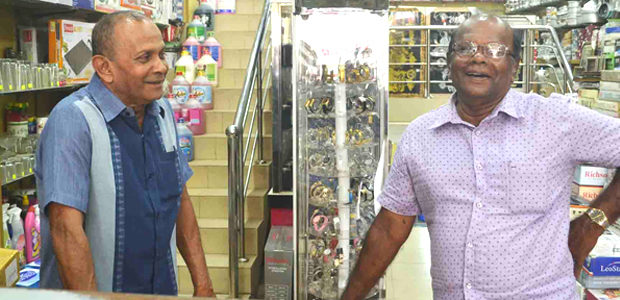 A Muslim man stands in front of a shop in the middle of a big city reading a Sinhala newspaper. A half-century old clock-tower in the middle of the roundabout indicates that the time is just past ten o'clock. Passersby on the pavement smile at him. Occasionally someone comes to the shop to obtain a certificate from the shop owner who is a Justice of the Peace. But no one came to buy the clothing, electrical equipment or gifts that the shop sells.
The question is "What has happened?".
"People don't have money. They didn't come to the shop for days. It was due the situation at that time, however, now people are not hanging on to racism." was his answer.
M.P.M. Ansar, Member of Anuradhapura Municipal Council is rich with three decades of political experience as well as business experience. He says: There are two groups of people who hold trust in the midst of life's inevitable breakups. One is the Sinhala consumer. The other group is the Sinhala voter.
"Eighty per cent of the people who voted for me are Sinhalese. My political teacher is a Sinhala leader. My voters are Sinhalese. Most of my supporters are Sinhala mothers. Race is not important to me whether they are from Muslim community or the Sinhala community. Humanity and trust are important factors." This was the starting point of Ansar's conversation with this.
Forty years ago, before the New City of Anuradhapura was built, people from all three communities – Sinhalese, Tamil and Muslim lived together in the same place. Children from each of these families went to temples together. All joined in religious observances. The school and the playground were also places where everyone would gather. Ansar also had this beautiful childhood. He chose St. Joseph's College in Anuradhapura which has a large majority of Sinhala children during his school days. Even today, Ansar proudly says, "I was a student of St. Joseph's College."
After school, he joined his family's shop as well as other businessmen as a trading assistant and later started his own business place in the Bank Town area of New City, Anuradhapura.
Mr. Ansar had a passion for social service. He engaged with people from all walks of life in the city and by joining in with the work of his Sinhala friends and did a lot. He also got involved closely in political activities with the Rajarata community leader the Late K. B. Ratnayake.
"I witnessed the 1983 Black July riots with my own eyes. It was a very saddening  incident. A Sinhalese Mudalali and I hid a Tamil businessman in a tank to save his life from a mob that came to kill him; I still remember that. The brotherhood we have had in this town since our childhood is never lost even after we moved to the New City from Pooja Nagaraya" he said.
"I met Aluth Watta on Buddhagaya Mawatha. When it came to politics I did not choose parties based on ethnicity. I chose a good party and a leader according to my conscience,. At that time, I liked Mr. K.B. Ratnayake who was a political disciple of Mr. Maithripala Senanayake. He was not concerned whether I was Muslim or Sinhalese. Wherever he saw me he treated well", Ansar says.
"When I contested for the first time, I was just short of 28 votes to get elected as a member of Municipal Council. The second time I came on top. Eighty percent of the people who voted for me must be Sinhalese. I support women's societies and mothers in general. Sinhala mothers went on canvassing on my behalf and pasted posters for me in my election campaign." He says loudly.
"In the municipality I never stood only for the Muslims. I understand that I am a representative of everyone and must stand up for everyone. This is my way," he stated.
After the Easter Sunday incident many shops were empty. Some carried out a campaign among the Sinhalese that they must boycott Muslim shops. Anyway, during those days, it was not only Muslim shops, business was down for everyone.
"One day a woman came to my shop and asked if this was a Muslim shop and wondered if she should buy things from us. I told her that I too condemn for what the terrorists have done. I work for everyone, regardless of whether they are Sinhalese or Muslims. Eighty percent of Sinhalese voted for me because I am not a racist. After listening to my explanation she apologized to me and purchased goods," Ansar clarified.
"If we Muslims think that we can do business without Sinhalese, that's a dream. Similarly, if Sinhalese think of avoiding Muslim shops, it too is a dream. We must face the reality. I went to St. Joseph College. My children went to Zahira Maha Vidyalaya. But my daughters' children go to Swarnapali Girls' Maha Vidyalaya, a Sinhala school. We are not at all hindered by language or race. It is not good to base such things that keep us away from each other," Ansar says.
The example of Ansar's story was also evident in his shop. His trade assistant is Chamara, a Sinhalese. Ansar had in fact raised him from childhood. He holds many responsibilities due to his experience in the shop and Ansar depends on Chamara.
"What we learnt from recent incidents is that people don't wish to be divided. Our children need a country, a future. Everyone should think about this" Ansar said.