In Conversation with Mohammed Nihmi Yusuf

Language as a Weapon for Change

Mohammed Nihmi Yusuf is the chairman of Matara district federation of youth clubs and the youth leader of the district. He was elected as a Minister of the Youth Parliament by the votes of young people from all religions; Buddhism, Hinduism, Christianity and Islam. This is an exclusive interview with The Catamaran with Yusuf on hate speech.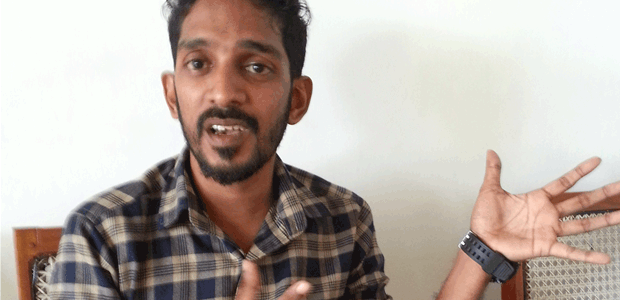 THE CATAMARAN – As a student in a Buddhist school and a popular youth leader both locally and internationally, what are your views post Easter Sunday attacks?
When it became common knowledge that the instigators were a group of Muslim youth, I was questioned by many friends. Certain politicians and the media cultivated hatred towards the Muslim community. We need to realize that all Muslims are not racists and this attack was an act by a minority of misled Muslim youth. I was elected and made the youth leader of the district by Buddhists. It is important to remember that our religion never teaches us to kill and those who commit suicide will see no heaven but hell.
THE CATAMARAN- As a youth leader, how did you see hate speech spread?
Media intensified the developing situation. While many Facebook users are youth, adults from rural villages obtained information from newspapers and electronic media. Media spread fear among them and created agitation against the Muslim community. While I had to argue very seriously against this, in some instances I had to remain silent for the sake of friendships.
THE CATAMARAN – As a Muslim, you speak Sinhala fluently. How was your social life affected after the Easter Sunday incidents?
I studied in a temple school and can speak Sinhala very well. I also work as a mobile phone technician. This job requires me to answer some calls in Tamil, which in such instances,causes customers to be uncomfortable and leave. In such moments it was the Buddhist monks who encouraged me. They asked me to do the right thing and not be over-sensitive. Buddhist philosophy provides answers to practical problems.
THE CATAMARAN – While young people prefer to be employed in the public sector, why is it that you, a young person fluent in all three languages, felt compelled to be self-employed?
I love this country. While my mother constantly asks me to get a job in public service and even though I've received several foreign employment opportunities, my heart belongs here. Even though some people think I am a fool for giving up these opportunities, when I go for foreign training and workshops, I understand the real value of our country. I like to work hard, earn and live happily while giving my strength to the country. Although I am a Muslim, the education I received from a Buddhist environment is highly valuable.
THE CATAMARAN – As a youth leader who has foreign experience, what is the least provoking way to respond to hate speech?
We need to discuss and debate the multiple faiths of this country in good faith. All religious leaders must share their opinions and unite. While Muslim clerics learn Arabic, they must learn Sinhala as well. Only then they can explain the truth. A simple misunderstanding can cause massive disasters. Saharan was a creation of misbelief. Why should one have to kill to go to heaven to live with women? It is my personal belief that psychiatric problems that translated into religious misbelief.
THE CATAMARAN – What is your opinion on moving forward, given the present situation?
I am happy with the service I deliver to my country as a youth leader. My friends ask me if I am planning to delve into politics. I believe politics is not essential to serve the country. We can do many social services without it. I can speak Tamil, but I cannot read or write it, even though I am Muslim. However, I can read, write and speak Sinhala fluently. While I am not ashamed of my shortcomings in Tamil and English, I would be ashamed if I could not speak Sinhala. Politicians must not seek political mileage through problems. They must identify the root causes for problems and bring policies to solve these issues. Unfortunately, the politicians of our country try to further crises for their benefit, not understanding that such efforts only bring temporary outcomes.