Excelling without Special Needs Assistance

This Young Girl is an Example to Us All

A young goat herder from Batticaloa is in need of special needs but excels without it
20.01.2020  |  
Batticaloa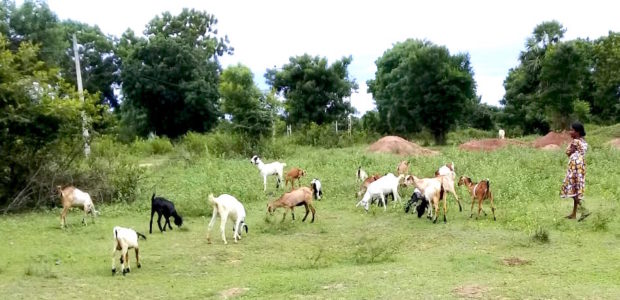 Dilani controls a herd of 30 goats. She shouts 'Hey … This way, this way …. Go .. Go'. We could even find dried elephant dung on the path. As a herder working on lands where wild elephants frequent, she is fearless. She doesn't even carry a stick, but the goats return home obeying her commands.
We saw this in the village of Manathai Potti in Kokkadichcholai, Batticaloa. Only then did we observe that Dilani uses the strength of her voice and legs in her daily work. On both sides of the road are agricultural fields. She takes extreme care to guide the herd of goats home without trespassing the fields.
This is Kurunthaiyadi Model village. Her clay-mound house is located in the area around stone houses provided by NGOs and other houses with tin-roofs and clay walls. Gunaratnam Dilani lives with her parents. Her sister married and lives separately. During the war, Dilani was born devoid of hands.
Dilani can be seen constantly busy and murmuring the same lyrics, 'green bangles are only sixteen lakhs…' while going about her daily routine.
People of the area have only currently and only to some extent started schooling. But Dilani, who was born without arms, did not fail to study. She was educated until Grade 10 at Vivekananda Vidyalaya in Kollanulai. She could not pursue higher education because of her family's situation. It is wonderful to see a girl with special needs coming this far without any special assistance.
People with special needs occasionally get assistance from people. Mostly, they are considered a burden to society. Both family and community look on special needs people with pity and consider them worthless. Children who are as confident as Dilani are an example to others. These are the people who wish to prove to the world that they can stand on their own two feet and make the best from what they have.
Dilani, who lives with her parents, is also a talented vocalist. She has also gained knowledge in history, religion and literature. This led her to compose and sing. Dilani is well known by her village for her singing at religious events.
Dilani completed her schooling but didn't attend a school for students with special needs. She studied in a regular school instead.
"Dilani is popular today. People come from the universities to talk to my daughter. They interview her and she is awarded prizes and honors. This is the greatest joy I have as a parent" Dilani's mother tells us.
Dilani has indeed won several awards for her songs. Three awards include An Artist Honor awarded in 2017, 'Ilam Karakak Kuyil' awarded in 2013 and 'People's Art Muthusam' awarded in 2012, given by local bodies, the Pradeshiya Sabha and the Rural Development Council.
'My father works hard and looks after us. I too am doing whatever I can to make myself self-sufficient,' says Dilani. She has been earning an income to take care of herself herding goats – something that many people fail to achieve even without a special needs. Peope like Dilani are an inspiration to all of us.