A mouthful of rice can change everything
A border once kept Sinhalese and Tamils from sharing a meal. Today, a restaurant replaces a physical and cultural barrier.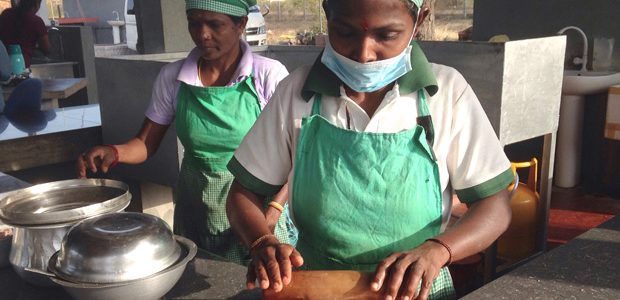 From Omanthei, which once lay along the border of divided land, to Jaffna peninsula, had been ruled by LTTE.  After the barricade lay an empty space through to Vanni and the south, which was under government rule.  Relatives of the same country had to undergo many checkpoints and hardships if they wanted to go through that stretch of land.
Under those circumstances, it was a dream for southern Sinhalese to eat a mouthful of rice in peace, just as people in northern Vanni dreamed of serving rice to southern relatives. A decade after the war, those simple dreams have come true.
A year ago, Pradesheya Sabha, a Tamil, planted new seeds of hope in an area of parched land where only Tamil people once lived during the war. He put up a small, picturesque restaurant where Sinhalese from the south heading north are not only invited to take a rest but also to enjoy a tasty local meal of Vanni.

Interpreter Pumalar
 Three women prepare food there regularly:
Pumalar was preparing curry to eat string hoppers and pittu with red rice. Raasa Lechchami was frying golden poori using ata flour. Navanedan Gowri was grinding new undu seedas until saambaru curry was ready to eat with thosey.
Pumalar was born in Matale and could speak Sinhala but Gowri and Raasa Lechchami cannot. Pumalar, therefore, is also a interpreter, and fills in the language gap:
"My husband is from Kurunagala. We know Sinhalese. We came here because our brothers and sisters were here," says Kurungula.
Her husband earns a meager income by doing odd jobs and Pumular also did what ever odd jobs came her way to earn a modest living.
When Pradesheya Sabha decided to build this restaurant with the approval of Northern Provincial Council, Pumalar was offered an opportunity to cook and sell food and interpret for the other two cooks. "Three of us cook here. I make juice also. We have a manager. I speak Sinhala on behalf of everyone," she says.

Everyone gets hungry
 "There is no difference between Sinhalese and Tamils. Everyone gets hungry. They come here to eat something clean, tasty and inexpensive. Our duty is to give our best to everyone. The happiest are the Sinhalese who stop on their way to Jaffna."
It is a new experience for Sinhala passengers, as it is their first time experiencing the taste of Vanni. "When they come here, they don't come for a long time. They ask details from us. They buy fruit juice. There are some who pay more."
What is cooked there is food unique to Vanni, Saivar, or vegetarian food. Most of the Sinhalese who eat thosei for breakfast are eating poori for the first time in their lives. When they ask how poori is made, Pumalar pulls the flour she is mixing towards her.
She describes how they are made and recommends relatives from the south to eat it at home.  "Sinhala people are not only happy about the taste of food from Vanni, they also praise the cleanliness."
The heart beats to the same rhythm
 Raasa Lechchami's husband has a heart condition and is unable to work. Therefore Raasa is responsible for taking care of her family. Some of the customers help her out, as they do Gowri, whose husband is disabled due to polio.
Regular customers like Anuradha goes often to the restaurant and savors not only the food, but the experience that is so drastically different from the past.
"We used to be suspicious of the Sinhalese," said Anuradha. "Both sides experienced a lot of pain. But those are erased by experiences like this. I am a mother of two children. I teach them that lesson. But I am sad to see opportunistic politicians from both sides trying to instigate people."
While laying a hot thosei on a banana leaf Gowri added, "Sinhalese are like brothers to us. "A mouthful of rice can change everything. Everything is done to live."