Talking to Wickramabahu Karunaratne (NSSP)

"We need to identify politicians who act selfishly"

The Nava Sama Samaja Party (NSSP) leader Dr. Wikramabahu Karunaratne said that if the state apparatus had functioned effectively to prevent the Easter Sunday attacks, there would be no re-emergence of racism and radicalism in the country. The government that failed to prevent it must be held responsible, he emphasized. Here is our full interview with him on the country's current situation: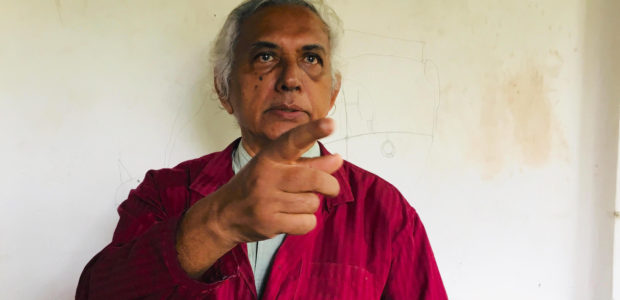 THE CATAMARAN: A ethnic conflict has arisen in the country again after the Easter Sunday attack. Can we know your thoughts on this?
This is not a very serious situation, but it can be observed that the current President Maithripala Sirisena and former President Mahinda Rajapaksa are trying to make it worse. All people's representatives have realized this. If we do not work together, we cannot advance economically and as a nation; we all know that. In particular, the party that came to power with the promise to bring about peace, harmony and unity among the Tamil and Sinhalese, the very ones working irresponsibly today when it comes to resolving that national situation. The head of the country acts under the influence of communal forces. This situation must change.
THE CATAMARAN: How do you justify your accusation against the head of the state?
The Easter Sunday attacks could have been prevented. It was the president's negligence that allowed it to happen. It was not the Muslim community who carried this out – only a few radicalised people. A select committee has been set up to investigate its veracity and inquiries going on. The president is aware of the facts of his indictment and tries to avoid being prosecuted. The president tries to throw this country into the abyss. To hide that, he has taken up the 19th Amendment angle. Prime Minister Ranil Wickremesinghe can bring about peace and harmony between communities in this country. We are confident that he can solve these problems.
THE CATAMARAN: You state that Prime Minister Ranil Wickremesinghe can bring about reconciliation among the people of the country; the present government has established a Ministry of Reconciliation; moreover former President Chandrika Kumaratunga also initiated a similar programme. However, no major changes have taken place in the last four years.
Minister Mano Ganesan is carrying out many programmes in this regard. I know him personally. He has made efforts to establish language policy by examining the 18 minority ethnic groups in the country. All three languages are given equal status. If the 13th Amendment is fully implemented, many issues can be resolved. In some places, I accept, there are operational problems. The cooperation of all the people is necessary to enforce the laws in the country. The public must know what their rights are too.
THE CATAMARAN: In a developing, multi-ethnic country like Sri Lanka, what are the possibilities of coexistence and harmony among communities?
There are many possibilities. In Sri Lanka, there are three major religions and many differences of opinion between them. However, all religions teach good things such as kindness, love, and helpfulness. They teach us not to be hostile and to accept one another. Proper programmes must be formulated and carried out to convey this. People need to accept diversity and stop thinking that only their religions are important or that others are against them. When this is done harmony and coexistence is possible.
THE CATAMARAN: It's been 70 years since the country became independent, but why wasn't it possible to achieve peace?
When we look at our history, on many occasions we notice that efforts were made to resolve the issues. The turmoil and chaos caused by national and international forces made it impracticable. However, we have made some progress in that matter. The 13th Amendment and the 19th Amendment in particular address these issues. However, the only remaining function is to implement it fully to make it work. Some people act foolishly when efforts are made to implement them. We have to prevent that stupidity. We need to identify politicians and chauvinists who act selfishly. Efforts should be made to weed them out.
THE CATAMARAN: How do you think civil society, and civil society activists should work towards reconciliation?
In a country like Sri Lanka, civil society organizations and civil activists must engage themselves in educating all three communities to go beyond dogma and accept diversity. They can have different methods based on this principle and provide advice on accepting and understanding the opinions of other communities. If this is done, the people will be able to understand that all religions teach humanity eventhough there are variations in the way this is said.
THE CATAMARAN: How would you describe the duty or responsibility of individuals in this process?
Our people are divided by language, race and religion. To speak on their behalf, they are together and dependent on themselves. There is nothing wrong with that but we need to understand those differences like clothing, food habits and rituals. I can't force someone else to wear my dress. It is not necessary either. We need to treat everyone equally and allow one another to live according to their beliefs.
THE CATAMARAN: What is the role of politicians in ethnic and religious reconciliation?
Following the Easter Sunday attacks, a parliamentary select committee has been set up to investigate the situation. The purpose was to find out whether politicians failed in their responsibilities. This is a good thing. Moreover, all the representatives of the people must take the initiative to fully implement the constitution. Every right of the people has been assured in the constitution. Even if the president acts against the constitution, he should be punished. The parliament has the right to do that. This is a big task. The Parliament is the supreme body and it must function properly.