Escaping the Snake Den

How One Woman Overcame Immense Tragedy and Debt

Sarojini lived with snakes to escape debtors. Today, she is a successful businesswoman. This is her story.
12.11.2019  |  
Mullaitivu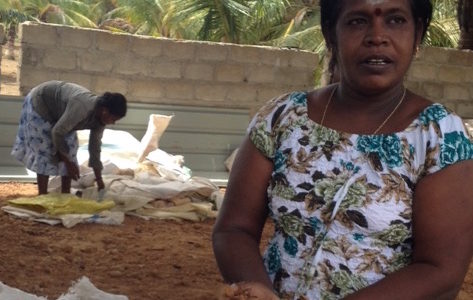 Mrs. Nirmalkumar Sarojini (age 51), had to live with snakes for many years to escape the debtors in her battle for life. She would walk many miles each day with no money to travel by bus. Today, she is a successful businesswoman employing others in Visvamadu (Mullaitivu). This is her story.
THE CATAMARAN: Can you please tell us about your family background…?
My hometown is Jaffna. My husband was from Puthukudiyiruppu (Mullaitivu District). He was a lorry driver who frequently came to Jaffna. We fell in love and got married in 1990. Then we shifted to Visvamadu (Mullaitivu District). We have two sons and two daughters. As the war intensified, raising and educating four children on a meager income was a challenge. In 2006, we relocated to Jaffna. One day my husband took a lorry to Vavuniya, was trapped and could not return home. After that my children and I went to Vavuniya amidst great difficulties. We had to struggle for our existence. No permanent income-earning jobs could be found. It was only after the end of the war in 2009 that we returned to Puthukudiyiruppu. Finding an income after the war was not easy. My husband had no job. It was difficult to have even three meals a day.
THE CATAMARAN: Why return to Puthukudiyiruppu?
We went there with the idea of looking for work, but it wasn't easy. I asked my husband about self-employment. He suggested we could make 'appalam' since I had some experience in making it. So, we used the rice given to us as aid to do this. There were no mills like today to grind rice and every process had to be done manually. That was the time people had just started settling again. I got into every shop on the bicycle to sell appalam. That business was not going well. After that, we started making and selling cement bricks. My husband hired a small tractor to transport the bricks.
THE CATAMARAN: Why did you pursue a career that required more money for raw materials?
I started the business by borrowing. Still, there was enough profit. I paid off that debt quickly. But unfortunately during that time my husband met with an accident. So I had to give up the industry. By this time, others had also started doing the same work. I couldn't face the competition standing alone.
THE CATAMARAN: What happened to your husband?
Our area Grama Sevaka borrowed our tractor and water pump to clean his well and my husband volunteered to help him. When he got into the well to dig the mud out, a fish bit him. When he was taken for treatment, the doctors wanted to amputate his leg. At the same time, his kidney was also affected. I pleaded with doctor to treat my husband without amputation. Since it was a basic government hospital and the facilities were lacking there, the doctor suggested that he could be treated at a private hospital. But it would cost a lot and they wondered if we could afford the treatment. Without any hesitation, I told the doctor to go ahead with the treatment without amputation. Each injection cost over Rs. 15,000. Within two days I had to spend over Rs. 35,0000. I had to also spend Rs. 3,500 to Rs. 5,000 for dialysis, since his kidneys were malfunctioning. I did this for three months and borrowed money from everywhere possible at high interest rates. The accumulated debts were over a million rupees. His leg was saved but he was bedridden for over a year. Medical expenses coupled with maintenance of the family without any income was unbearable. The money lenders started pestering me.
THE CATAMARAN: How did you deal with the debt and run the family?
The money-lenders started coming home day and night. I could not face them. I sent the children to Jaffna to be with my mother. After nursing my husband early in the morning I would leave home without having a meal to avoid the lenders. I took shelter behind a snake-abode to escape them. Snakes were uninvited guests to my house but they never harmed us.
THE CATAMARAN: Didn't you know about Samurdhi, government assistance for resettlement and interest-free loan to start a small business enterprises?
Several months after resettlement we got Rs. 3000 as Samurdhi assistance. To get this amount I had to spend Rs. 80 as bus fair. There were times I didn't have even this much of money. So, I travelled half-way by bus and walked the rest of the distance. On the days of Samurdhi assistance, the lenders come and snatch the money from me and go away. I come home crying. I began to hate myself. I was ashamed to think I was living a very disgraceful life. Then I learned that some NGOs have started serving people. Only then I thought of the 'coco peet', which helps agriculture from the coconut husk ('coco chips').
THE CATAMARAN: What happened next?
I decided to face the creditors bravely. I started living in the house without hiding behind the snake abode. I assured the creditors that I would pay the debt in due installments. I sought help from a charitable organization. They took no time to help me and also guided me to a government-run vocational training center. Training was held in three stages at Mullaitivu Divisional Secretariat. With great confidence, I started a factory under the name 'Muthumari Amman Chips'.
THE CATAMARAN: How many people work in the factory today? How is the industry going?
There are 13 women working in the factory. I have set up a coconut plantation on a four acre plot of land owned by my husband in Visvamadu. Very soon, I will have the raw materials needed for my production from our own land. I have made commercial connections outside Sri Lanka too. My husband does his best to help to improve the business. I have already given my eldest daughter in marriage. The other three are assisting me in the business. I have paid off all the loans with interest. The machinery I got from the charitable organization broke and we were able to buy new machines at our own cost. Our products are sold in Sri Lanka and exported to many overseas countries including Thailand and Indonesia.
(After publishing this story we came to know that this successful woman has been admitted to the hospital for kidney ailment. And her husband and daughter who went to see her in the hospital had met with an accident. The husband had broken his arm due to the accident. At the same time the 4th machine had also broken down. Once again she is in debt, and the women who worked in the factory are unemployed. We feel that there is lack of professionalism and management in the conduct of the industry. We hope that if proper guidance and technical assistance are given to these enterprising women by some professionals and expert they will be able to continue their career successfully.)