Going to Prison for Love
Their love caused street brawls and a judge sent them to jail for a crime they did not commit.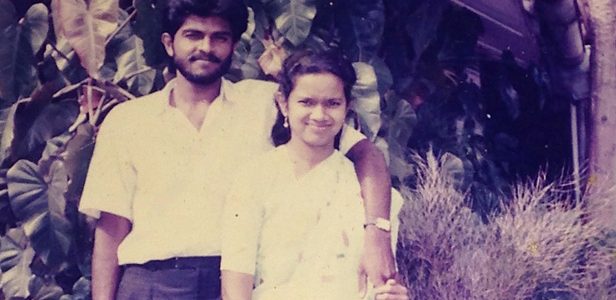 Vinayagar Sri Muhunthar, from Balangoda, first met Kottagoda Arachchilage Mohamed Rashid Sithy Sadina, from Kandy, at Balangoda Jailani College.
"Sadina had been in my brother's class," Muhunthar remembered. "She was a beautiful girl."
Sadina recalled: "I am a Muslim, but I don't know why I felt something special as soon as I saw this Tamil boy. He was very tall. There was no one like him. Yes, the feeling I had was love. But according to my religious background, it was frightening to say a word."
She looked for him at school him in the mornings and saw him in her dreams at night. But she did not get an opportunity to say 'I love you' until their schooling was over. Before that she got an appointment as a teacher. "As a science teacher I was going to get a position at a faraway school. It was Muhunthar's mother who recruited me to C.C. Tamil school where she was the principal."
Muhhinthar said: "I told mother to do so not because there was not anything special about her. She was a student at our school, social and friendly. Only now do I know that she had loved me then."
Muhuntar who was not at his home on that day was teased by his aunts saying that your girl came by. "I started to feel love, but how can I say it, she was a Muslim girl." He  shared his feelings about her through a friend and she agreed to meet him. Their solution in dealing with their different religions was simple: "You stay as you are, I will stay as I am."
Dangerous secret
With time and rumors their love come to be known by the elders. Sadina's grandmother and uncles wanted to marry Sadina off to someone else. "My uncles scolded me severely. They did not think I would do it." But every potential bridegroom who came to see Sadina met Muhunthar to ask whether the rumour about them was true.
"I said it's true and I am marrying her," said Muhunthar. "I also felt sorry for her. At the same time, my mother transferred her to Jailani school. Thereafter we saw each other only when travelling. Friends helped to exchange letters."
Sadina wrote poems for the radio and beautiful letters to him. One day when he was writing a letter to her at night, he drew the crescent moon with a dented heart attached to it. "This became torture to my mind. I told everyone at home I wanted to be with her."
After several days when Muhunthar woke up one morning, Sadina's grandmother sat on his bed with a cup of tea and a Quran in her hand. Before meeting Muhunthar the grandmother tried to place Sadina's hand on the Quran and to get her promise to end the love story. When she refused, the grandmother tried with Muhunthar. "'She swore,'" the grandmother said. "You should also." When I said no, she went away angrily."
Violence and tricks
Plans were made to register the marriage. "When Sadina came one day we talked inside a car and I said 'let us take a decision.' She did not reply. Then when I said we'll stop this affair she said, 'No, I will come with you.' We decided to marry secretly."
"We couldn't go home although we were married. We knew it would make people angry. We went to a friend's in Haldummulla –  his name was Rocky. That was on 16 February 1993. But Sadina's people went there. Rocky protected us. Our people came with swords and improvised guns and brought the two of us to our home in Balangoda. But everything grew even harder one month before the marriage due to a summons by Balangoda police. They saw a marriage certificate with Sadina's name on it with a date prior to their marriage. It was a marriage done under Muslim law.
"It was fake," said Muhunthan. "The charge was that I took away a married person." After a while Muhunthar's family brought a lawyer to the police station. Her family did the same. The road in front of the police station was blocked with heads with and without white caps. "The police chief said to arrest us as (sectarian) violence could occur. Rich people of Sadina's family planned all that.
We were put in a police cell. From there, Minister Abusally, Mohan Appo and Hamilton Fonseka got involved in the case. At about one in the morning, Appo and Hamilton Fonseka, politicians from two different parties, came together with and said 'this is a crime and we are with you'.
While the road in front of the police station was becoming a battle ground with Tamils, Muslims and Sinhalese exchanging blows, the Officer in Charge decided to impose a police curfew in Balangoda town as a wedding gift. "There was a Muslim police constable at the police station and he cried saying it was unjustifiable.  We were taken in handcuffs to Rakwana Court. The judge was a Muslim. He was against us. But many lawyers spoke on our behalf and didn't any money.
Lawyers asked if Sadina had married earlier, where the groom was and where were the photos? The police said we were instigating blasphemy. The judge sentenced us to 14 days in Walikada prison."
Love overcomes obstacles
 "Sadina was kept in Ratnapura cell for two days. A Buddhist monk was there on the male side and heard Sadina shouting at night – she had a stomach problem in and no one was there to look after. When the Buddhist monk shouted at the jailor on her behalf, only then did she get help.
Love letters connected Muhunthar and Sadina living separately between walls of the prison. Prison guards who delivered the mail were treated with a pack of cigarettes brought in secretly through friends.
Muhunthar and Sadina's story was sent to a higher court, where the judge told them they been caused a grave injustice. He ordered for their release and for the arrest the people connected with their imprisonment.
"As a Muslim girl I had many problems," Sadina recalls of the last twenty years. "Some still look down on us. This society is not used to accepting experiences like ours. I can't say whether I am right or wrong. But I know love can overcome obstacles."